Quanti giocatori ha la serie Call of Duty? Molti, stando a un dato emerso grazie all'OXO Museo di Malaga, in Spagna, che ha svelato il numero di giocatori contemporanei di Call of Duty Warzone 2.0, Call of Duty: Modern Warfare 2 e Call of Duty Mobile.
L'informazione è arrivata sotto forma di una fotografia a Insider Gaming, spedita da un lettore in visita alla struttura museale. Alle 20:00 di ieri, ora italiana, i giocatori online nei Call of Duty erano 1.104.383, così ripartiti: Call of Duty: Warzone 2.0 424.000, Call of Duty: Modern Warfare 2 184.000 e Call of Duty: Mobile 406.000.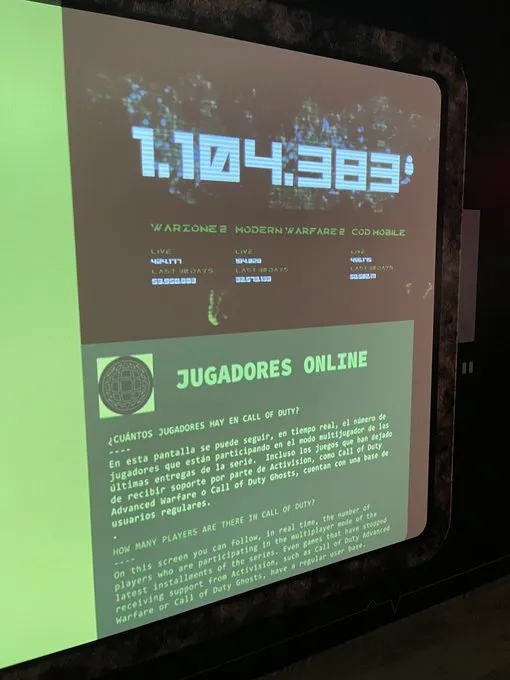 La foto inviata a Insider Gaming
Importante specificare che si tratta di cifre altamente variabili e che il museo è stato autorizzato da Activision Blizzard a condividere i numeri live dei suoi giochi. L'editore USA non ha ancora commentato quanto emerso, comunque.
Ora, in apparenza sembrano dei numeri davvero ottimi, ma per dare dei giudizi sensati mancano diversi dati, quali l'andamento giornaliero complessivo, il numero di giocatori mensili, i numeri della concorrenza diretta e quelli attesi da Activision Blizzard. Insomma, parlare di successo o insuccesso sarebbe fuori luogo.
Del resto voci recenti vogliono il numero di giocatori di Warzone 2 crollato più velocemente delle aspettative. Quando si parla di live service la situazione è sempre in divenire e niente può essere dato per scontato.