Il canale YouTube Sundellviz ha pubblicato un interessante video in cui ricostruisce quali sono stati i videogiochi più ricercati su Google tra il 2004 e dicembre 2022, usando i dati reperibili su Google Trends.
La maggior parte dei risultati non stupiscono, visto che si tratta di giochi amatissimi dalle masse. Vediamo il filmato:
Questa è la top 5 dei giochi più ricercati su Google in Europa tra il 2004 e la fine del 2022, secondo i dati di Google Trends:
Minecraft
World of Warcraft
Grand Theft Auto (serie)
Fortnite
Counter-Strike (serie)
A dicembre 2022, per rimanere alla stretta attualità, i giochi più ricercati sono stati Fortnite, Minecraft e Roblox, con una buona presenza di World of Warcraft sul continente.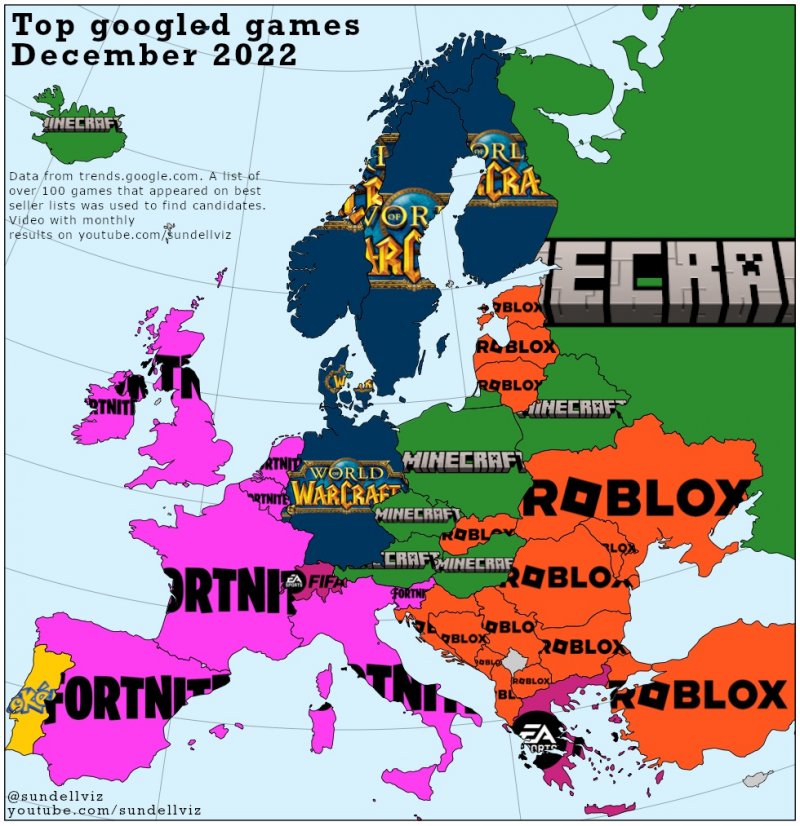 I giochi più cercati su Google a dicembre 2022
Naturalmente i trend seguono moltissimo i lanci di nuovi giochi e di nuovi contenuti ma, come visibile dal video, ci sono stati dei mesi in cui hanno prevalso in tutte le nazioni europee singoli giochi.
Ad esempio a giugno 2016 c'è stato un dominio assoluto di Minecraft, mentre a luglio dello stesso anno di Pokémon GO (fu lanciato quel mese). Fortnite emerge ogni volta che ci sono dei nuovi aggiornamenti maggiori e così via.
Come specificato dall'autore stesso del video, i dati potrebbero non essere precisi al 100%, a causa di alcuni misteri degli algoritmi di Google Trends. Comunque sia sono decisamente indicativi di ciò che viene ricercato dai videogiocatori nel vecchio continente.