Minecraft Dungeons ottiene l'aggiornamento/espansione Flames of the Nether, che si presenta come l'aggiunta più grande uscita finora per il particolare action RPG di Mojang, disponibile da oggi, 24 febbraio 2021 su tutte le piattaforme previste.
L'update è caratterizzato da due sezioni, come gli altri usciti in precedenza: un DLC a pagamento che aggiunge un nuovo reame esplorabile al mondo di gioco e un aggiornamento gratuito di accompagnamento, che aggiunge contenuti disponibili per tutti i giocatori.
Per quanto riguarda la componente a pagamento, Flames of the Nether comprende i seguenti contenuti:
6 nuovi livelli, tutti incentrati sul bioma del Nether che viene aggiunto ed espanso in questa occasione nel mondo di Minecraft Dungeons
Nuovi mob e boss all'interno di ogni livello, anche questi ispirati all'ambientazione del Nether tra piglins, hoglins, blaze, wither skeleton, ghast e anche un boss misterioso
Nuove armi ed equipaggiamenti da conquistare e utilizzare
Nuovi oggetti cosmetici tra i quali due skin e un pet Baby Ghast
Altri segreti, aree nascoste e ulteriori contenuti da scoprire
Per quanto riguarda l'aggiornamento gratuito, Flames of the Nether porta con sé dei cambiamenti alla modalità Apocalypse Plus, condensando i 20 livelli di difficoltà presenti in precedenza in 10 e aggiungendone altri 15, portando dunque la potenza massima al livello di 250, con un nuovo bilanciamento applicato.
Tra le altre novità anche la modalità Ancient Hunts, che consente di costruire nuovi livelli a generazione procedurale utilizzando i punti incantamento, che contengono ancient mob e oggetti rari. Viene inoltre aggiunto il Piglin Merchant come nuovo mercante presso l'accampamento, viene aggiunta la nuova valuta dell'oro accanto agli smeraldi, nuovi incantamenti e altro.
Di recente è emerso che Minecraft Dungeons ha superato i 10 milioni di giocatori e lo scorso novembre si è evoluto con l'aggiornamento cross play che è ora possibile tra le varie piattaforme su cui è disponibile.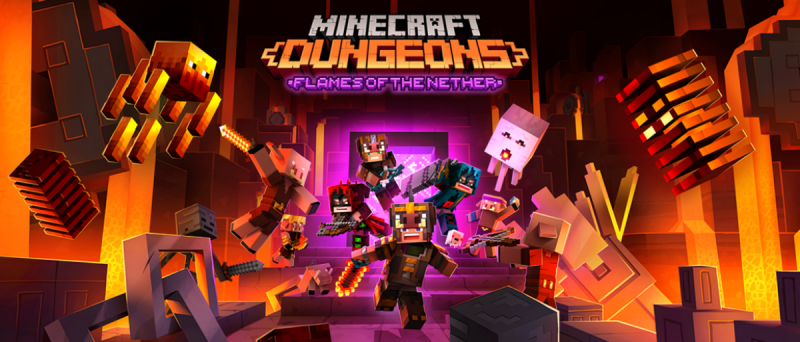 Minecraft Dungeons: Flames of the Nether si concentra sul bioma del Nether