Terminata l'esclusiva temporale su Apple Store, Exit the Gungeon fa finalmente il proprio debutto anche su PC e Nintendo Switch: la nostra recensione
Per la recensione di Exit the Gungeon ci siamo nuovamente cimentati con il frenetico action shooter roguelike di Dodge Roll, che terminata l'esclusiva temporale su Apple Store ha fatto finalmente il proprio debutto su PC e Nintendo Switch, con quest'ultima versione oggetto dei nostri test.
Se non conoscete il gioco, un chiarimento è d'obbligo: non ci troviamo di fronte a un vero e proprio sequel dell'ottimo Enter the Gungeon, bensì a uno spin-off che riprende personaggi e ambientazioni dopo la conclusione della campagna originale, affidandoci un altro incarico particolarmente complesso.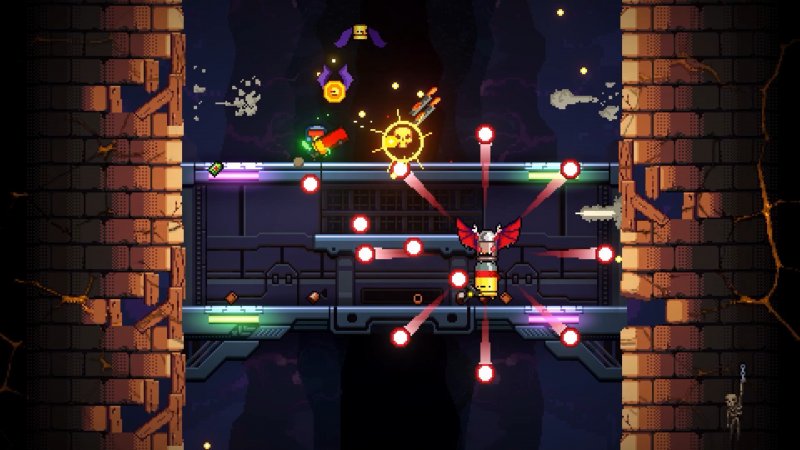 Laddove in precedenza il nostro obiettivo era quello di entrare nel Gungeon, infatti, ora dovremo cercare di uscirne facendo riferimento a meccaniche di gameplay sostanzialmente diverse.
Messa da parte la formula twin stick shooter degli esordi, il nuovo titolo omaggia infatti classici come Super Crate Box per immergerci in impegnative sfide all'ultimo proiettile che si svolgono prima all'interno di rapidi ascensori, poi in ambientazioni statiche. Le regole sono semplici: un tasto per sparare (direzionando il fuoco con lo stick destro), uno per rotolare e uno per saltare, entrambe manovre che consentono di evitare i colpi dei nemici. Il resto? Tanta prontezza e determinazione per un'esperienza breve ma intensa, ampiamente rigiocabile.
Personaggi e gameplay
La storia di Exit the Gungeon, in verità appena abbozzata, richiama molto spesso elementi e comprimari del già citato episodio originale, Enter the Gungeon, mettendoci nei panni di uno fra i quattro personaggi inizialmente disponibili (altri tre possono essere sbloccati completando il gioco) e lanciandoci nel mezzo dell'azione dopo un breve tutorial in cui familiarizzare con il sistema di controllo.
Laddove su iOS era possibile optare per comandi touch o fisici tramite controller Bluetooth, cosa che produceva effettive differenze nel gameplay sotto forma di aiuti, su Nintendo Switch le uniche opzioni presenti consentono di regolare l'assistenza alla mira (mai automatizzata, comunque) e cambiare il pulsante di fuoco scegliendo fra il dorsale destro o il trigger destro.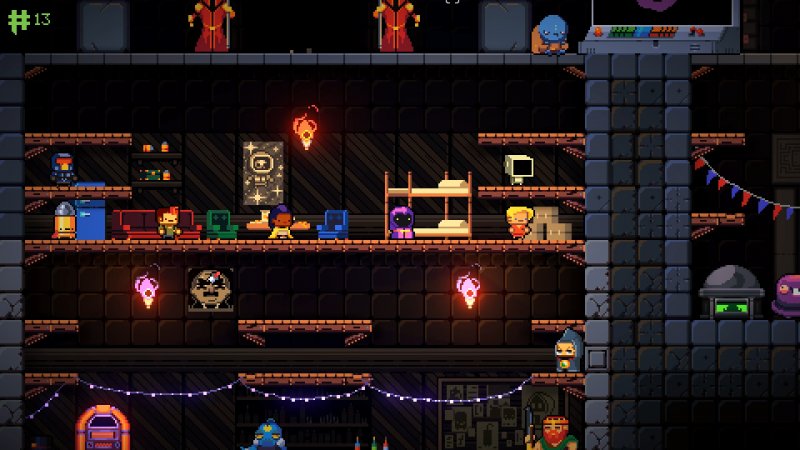 Una volta entrati nel primo ascensore, nell'ambito di un percorso procedurale che cambia di volta in volta e presenta situazioni diverse a seconda del personaggio selezionato, dovremo dar fondo a tutte le nostre risorse eliminando un numero sempre maggiore di nemici che compariranno da ogni angolo, cosa che ci spronerà a sparare in qualsiasi direzione con l'arma equipaggiata.
Quest'ultima rappresenta senza dubbio la più rilevante peculiarità del gioco, visto che cambia all'incirca ogni minuto in maniera casuale, mettendoci in netta difficoltà qualora ci si ritrovi con un lento fucile a carica e fornendoci invece un vantaggio nel caso in cui compaia un mitragliatore con ampio raggio d'azione. Croce e delizia dell'esperienza, tale aspetto implica la necessità di avere anche una buona dose di fortuna al fine di trovarsi nelle condizioni migliori per affrontare i vari boss.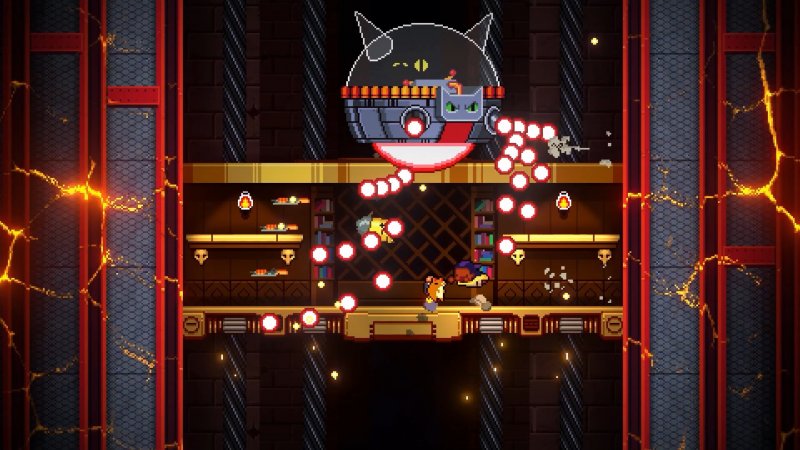 Nemici e realizzazione tecnica
Come detto, la progressione della breve ma intensa campagna di Exit the Gungeon utilizza alcuni elementi casuali e piazza sul nostro cammino alcuni pericolosi boss, selezionati da una rosa relativamente ampia. Si tratta di nemici molto più resistenti del normale, ma che soprattutto attaccano sprigionando miriadi di proiettili che coprono quasi interamente lo schermo, in pieno stile bullet hell ma senza rallentamenti a renderci le cose un po' più facili.
Diventa dunque essenziale memorizzarne i pattern di movimento e di attacco, nonché padroneggiare le schivate (tanto il rotolamento quanto il salto) alla perfezione, ricorrendo laddove necessario a una "smart bomb" consumabile che però si limita a far scomparire i proiettili e non produce danni agli avversari.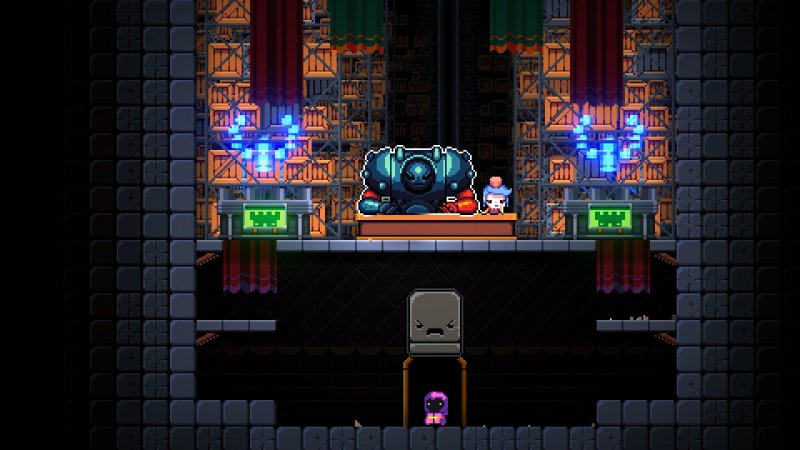 Tanto i boss quanto, in generale, le creature che dovremo affrontare durante il nostro disperato tentativo di uscire dal Gungeon sono caratterizzati da un design riuscito e interessante, che fa uso di una pixel art molto ben fatta e propone una grande varietà di aspetti e comportamenti: dai proiettili animati ai maghi che appaiono e scompaiono, dagli slime che si sdoppiano ai mini-boss armati di spada laser, il bestiario messo insieme da Dodge Roll non si fa mancare praticamente nulla, consegnandoci un lore affascinante che consolida l'ottimo lavoro fatto con il gioco originale.
Un discorso che si estende agli scenari, per quanto limitati, statici e caratterizzati dall'inevitabile riciclo di asset dovuto alla generazione casuale. Belle le musiche, un po' troppo posticci gli effetti: lo stile retrò esteso anche al comparto audio forse non è sempre una buona idea.
PRO
Frenetico e impegnativo
Bella grafica in pixel art
Godibile in portabilità e molto rigiocabile
CONTRO
Resta un'esperienza breve in assoluto
Limitato rispetto a Enter the Gungeon
Sa essere piuttosto frustrante