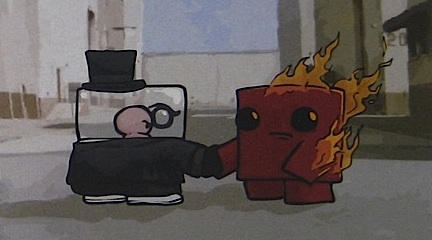 Super Meat Boy sembra possa circoncidersi o meno a seconda delle circostanze. Creando un paradosso simile a quello del gatto di Schrodinger. Questa curiosa notizia è emersa recentemente su Twitter grazie ad un folle scambio di battute tra i creatori del gioco e alcuni loro fan.
Meatboy can circumcise and uncircumcise himself at will. So the answer is both, it's like Schrodinger's foreskin. You wonderful freaks. https://t.co/308OwgOCaS

— Team Meat (@SuperMeatBoy) January 3, 2020
Internet non sempre è un luogo accogliente, ma quasi sempre è un posto dove c'è spazio per la follia. Per esempio un fan di Super Meat Boy, il difficilissimo platform trial&error sviluppato dal Team Meat, bruciava dal desiderio di sapere se il rosso protagonista fosse circonciso o meno.
Il team di sviluppo, al posto di lasciare correre, ha dato una risposta che farà discutere a lungo: come la pelle (del gatto) di Schrodinger (che c'è o non c'è in base a quello che pensiamo noi), Meat Boy può circoncidersi e decirconcidersi (scusate, ho inventato la parola) in base alle esigenze.
Come fa? Perché lo fa? Lasciamo a voi il piacere di scoprirlo… o di chiederlo direttamente al team di sviluppo!