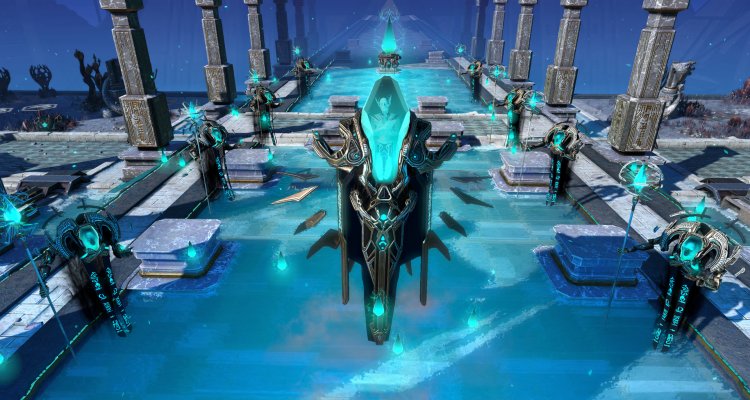 Disponibile Revelations, il primo DLC maggiore di Age of Wonders: Planetfall, nonché parte del Season Pass di gioco. Una dinastia ormai dimenticata, gli Es'Teq, è tornata in scena dopo il crollo della Star Union. I suoi discendenti, gli Heritor, sono portatori di antiche e potenti tecnologie, che non esiteranno a usare per ristabilire l'ordine divino. Risucchiando l'essenza dei nemici, gli Heritor brandiscono potenti armi entropiche efficaci contro le macchine, che possono risvegliare le menti degli antichi Es'Teq. L'obiettivo del giocatore sarà duplice: o dovrà impedire l'ascesa degli Es'Teq, o dovrà favorirli dandogli in controllo assoluto dell'universo conosciuto.
Leggiamo altri dettagli su Age of Wonders: Planetfall Revelations tratti dalla pagina Steam:
Meccanica dei siti anomali:
esplora oltre 30 siti misteriosi pieni di trappole e nemici potenti per ricevere ricompense uniche e scoprire incredibili segreti. Grazie a scelte uniche e specifiche di ogni fazione, razza o tecnologia segreta, i giocatori possono combinare più siti per creare episodi di combattimento sempre diversi. Trasforma ogni sito in un monumento per guadagnare bonus e risorse aggiuntivi per la tua colonia.
Missioni della campagna aggiuntive:
assisti al risveglio della dinastia degli Es'Teq e alla rinascita dei suoi discendenti, gli Heritor, con i nuovi contenuti suddivisi in due campagne per un totale di oltre 1410 ore di gioco. I giocatori possono unirsi a quest'antica fazione religiosa scegliendola come tecnologia segreta. Usa il suo potere per stabilire un nuovo impero mistico!
Scenario Mondo delle tombe:
prova a completare questo nuovo scenario mortale, su cui infuria la bufera distruttiva dei nemici Heritor. Questo scenario include anche una nuova storia multigiocatore che consente a più giocatori di partecipare all'azione.
Fazione di PNG dei "Dimenticati": anime distrutte, pazze o comunque inadatte alla società utopica degli Heritor, i Dimenticati non avrebbero mai dovuto tornare in vita.
Minacce al tuo impero:
i Mietitori sono assassini robotici creati molto tempo fa per distruggere chiunque appoggiasse la causa degli Heritor, ma che ora danno la caccia a chiunque metta piede sul pianeta. Ugualmente letali sono la Megascrofa e la Prole porcina, animali selvatici sottoposti a procedure di bioingegneria dopo la caduta della Star Union, i quali divorano qualsiasi cosa scorgano.
Luoghi, raccolte e meccaniche: visita uno Squarcio nell'essenza o il Pozzo Es'Teq per fornire alle tue unità nuovi effetti di combattimento o abilità. La raccolta del proiettore olografico fornisce ricompense diplomatiche e ulteriore influenza su alleati e nemici. Prendi il controllo di difese imperiali come il nuovo Faro delle anime, il Lanciamine a grappolo o il Silo delle tempeste di missili da usare come supporto in combattimento.
Contenuto gratuito: tutti i giocatori avranno la possibilità di prendere il controllo delle nuove difese imperiali, sbloccando operazioni che possano potenziare gli effetti di combattimento delle tue colonie. Inoltre, la meccanica dei relè orbitali potenzia l'infrastruttura del tuo impero per consentire il trasporto di unità quasi istantaneo tra settori, ma attenzione ai sabotaggi nemici!