Durante l'E3 2019 abbiamo visto finalmente in azione Marvel's Avengers: A-Day, il nuovo titolo di Square Enix: le prime impressioni a caldo nella nostra video anteprima.
Marvel's Avengers: A-Day è stato ufficialmente presentato durante la conferenza Square Enix all'E3 2019. Gli sviluppatori hanno raccontato qualcosa in più su come funzionerà il gioco, il supporto post-lancio e la possibilità di vestire i panni di Iron Man, Hulk, Thor, Vedova Nera e Captain America. Nella video anteprima in testa all'articolo trovate le nostre impressioni a caldo in attesa di approfondire il gioco nei prossimi giorni.
Due anni dopo l'annuncio, avvenuto con un breve teaser trailer all'E3 2017, Square Enix ha finalmente mostrato al mondo The Avengers Project. Marvel's Avengers: A-Day, questo il titolo scelto dal publisher nipponico, pare non seguire le orme tracciate dal Marvel Cinematic Universe, ma propone un'avventura inedita, che si apre nella città di San Francisco. Qui Capitan America, Iron Man, Hulk, Vedova Nera e Thor presentano al mondo il loro nuovo quartier generale e la portaerei volante: l'inaugurazione però si trasforma in tragedia quando un attacco nemico distrugge il nucleo a energia sperimentale dell'helicarrier, che esplode distruggendo la città. I vendicatori vengono incolpati della catastrofe, e costretti a sciogliere il team; solo dopo 5 anni il gruppo si riunirà per fronteggiare insieme un potente nemico, ancora da rivelare.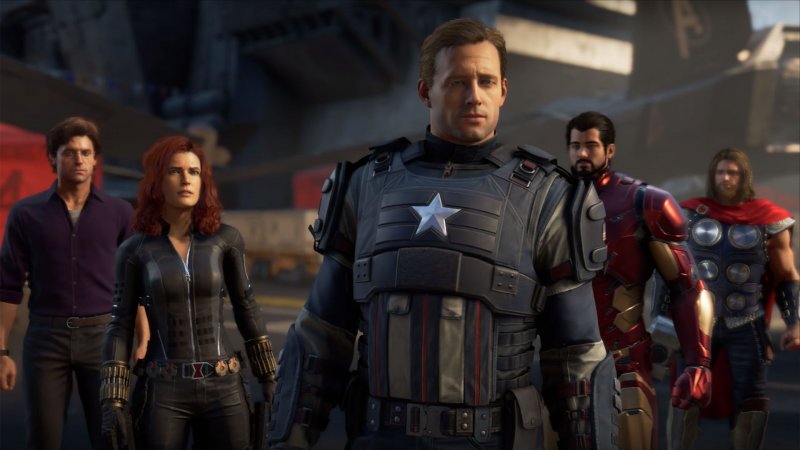 Non ci sono ancora informazioni riguardo alla natura del gioco sviluppato da Crystal Dynamics e Eidos Montreal, i due studi dietro Rise of the Tomb Raider. Non è noto quindi se si tratterà di un'avventura in singolo o un cooperativo online. Gli unici indizi arrivano da alcune dichiarazioni di Marvel: la casa delle idee aveva infatti posto alcuni paletti allo sviluppo di un gioco dedicato agli Avengers, a partire dalla scelta di un partner affidabile. Erano poi stati citati tre requisiti ben precisi: un gameplay coinvolgente e divertente, personaggi credibili e una storia accattivante. È possibile quindi che il gioco possa essere si un'avventura story driven ma con un multiplayer integrato, con una formula ibrida di missioni co-op online. Quello che gli sviluppatori hanno sottolineato con forza, però, è il loro desiderio di fornire ai giocatori nuovi e costanti contenuti per il gioco dopo la sua uscita, senza integrare sistemi di loot box o pay-to-win. Per saperne di più bisognerà aspettare la beta riservata a chi ordinerà il gioco su PlayStation 4. Oltre che sulla console Sony, Marvel's Avengers A-Day uscirà poi anche su Xbox One, PC e Stadia, con la data di uscita prevista per il 15 maggio 2020.