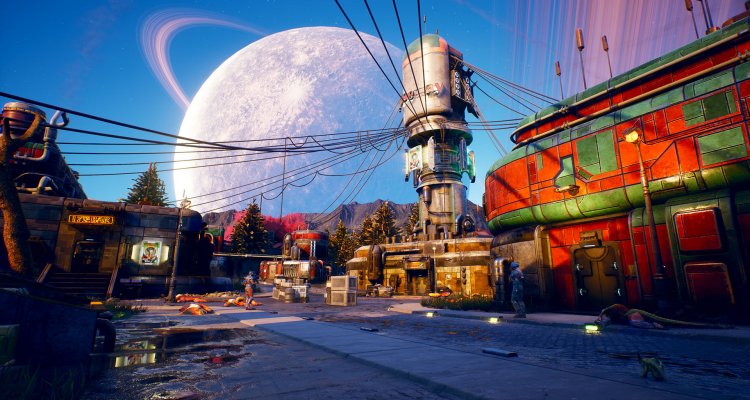 Game Informer ha pubblicato un nuovo video esclusivo su The Outer Worlds, l'RPG ad ambientazione fantascientifica in sviluppo presso Obsidian, nel quale risulta visibile con più chiarezza il sistema di combattimento che mostra alcune somiglianze con il classico VATS di Fallout.
Il co-fondatore del team Tim Cain e il lead designer Charles Staples discutono, nel video visibile qua sotto e riportato anche da WCCFTech, del sistema di combattimento strategico utilizzato in The Outer Worlds, che presenta in effetti delle somiglianze con quello adottato già in Fallout 3 e in New Vegas (altro gioco sviluppato dal medesimo team). In questo caso si chiama Tactical Time Dilation o TTD e si tratta comunque di una soluzione che rallenta il tempo ponendo il gioco in slow-motion e consentendo una maggiore possibilità di adottare un approccio tattico allo scontro.
L'uso del TTD è limitato nel tempo ma il suo consumo è bilanciato su diversi fattori: guardarsi semplicemente intorno consuma il TTD meno velocemente rispetto a spostarsi e sparare, dunque si può effettuare un utilizzo misurato del sistema in diverse azioni. Altro punto discusso nel video è l'utilizzo dei compagni: in The Outer Worlds ci si trova a sfruttare un party di personaggi, con i companion che hanno parte attiva e fondamentale negli scontri. Il giocatore può dirigerli in combattimento e sfruttare le loro diverse abilità, ampliando le capacità di attacco. In base a quanto emerso di recente, The Outer Worlds a quanto pare non sarà immenso in termini di estensione, ma richiederà comunque una buona quantità di ore per poter essere concluso.