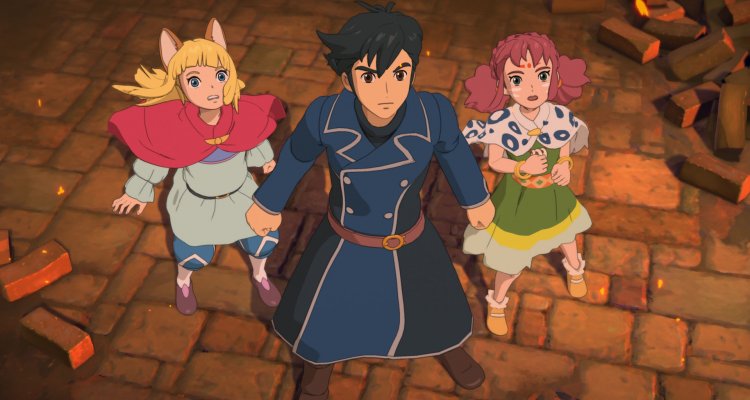 Ni no Kuni si appresta a diventare un film d'animazione, prodotto da Level-5 e dalla divisione giapponese di Warner Bros..
L'annuncio del film tratto dalla celebre serie di Ni no Kuni è stato fatto oggi, nel corso di uno speciale evento in cui gli autori hanno rivelato che il lungometraggio farà il proprio debutto questa estate in Giappone.
Il film di Ni no Kuni sarà diretto da Yoshiyuki Momose (character designer di The Legend of the Galactic Heroes), avrà una colonna sonora scritta da Joe Hisaishi e una sceneggiatura realizzata da Akihiro Hino, il CEO di Level-5, che svolgerà anche il ruolo di produttore esecutivo.
A occuparsi dell'animazione sarà lo studio OLM (Pokémon, Inazuma Eleven), Warner Bros. farà da distributore per la pellicola e l'attore Kento Yamazaki (visto nel live action di Death Nothe nel ruolo di L) ricoprirà il ruolo del protagonista della storia, Yu.
Studente delle superiori, Yu, il suo migliore amico Haru e la sua amica d'infanzia Kotona vengono catapultati nell'universo di Ni no Kuni attraverso un varco dimensionale. Quando però la vita di Kotona viene minacciata, i tre ragazzi vengono chiamati a prendere delle decisioni difficili.
【速報】映画『二ノ国』2019年夏公開決定、主演は声優初挑戦の山崎賢人、製作総指揮/原案・脚本は日野晃博氏 https://t.co/0cQi3RRROc pic.twitter.com/iJethtKMc2

— ファミ通.com (@famitsu) 9 febbraio 2019